TIME MAGAZINE HONORS M.U.L.E.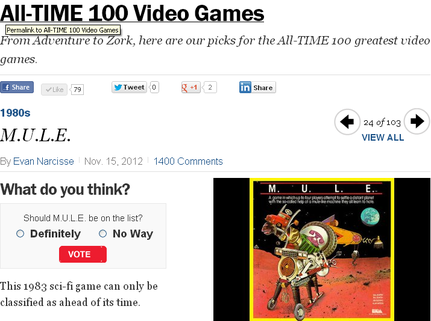 ---
Our Partners
Our endorsed and licensed partners will have our company logo on their website. We give them credit for keeping the M.U.L.E. brand alive.


---
M.U.L.E. RETURNS for Mobile Devices

We are thrilled that Comma 8 Studios will be releasing version of M.U.L.E. for mobile platforms. It is due to be released late 2012.
See more at w
ww.MULEReturns.com
---
LINKS

The
Strong Museum of Play
in Rochester, NY displays some of Dan's collection at their eGameRevolution exhibit.
http://www.thestrong.org/press/releases/2010/11/806-icheg-acquires-dan-bunten-dani-bunten-berry-papers
---
Christian Schiller has spent many many hours keeping his tribute website,
World of M.U.L.E.
, going strong. Thanks Christian!
http://www.worldofmule.net/tiki-index.php
---
Planet M.U.L.E.
was created as an online tribute for MULE fans to play for free. It has achieved quite a following with over 23,000 people registered. http://www.planetmule.com/
---